Visual Communication in Business - Why Multimedia Matters

Have you ever hosted a meeting where you thought the action items and take-aways were clearly summarized in the emailed meeting notes, just to find a couple of days later that the attendees processed none of that information? Us too.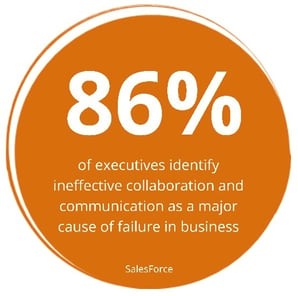 According to SalesForce, "86% of executives identify ineffective collaboration and communication as a major cause of failure in business." It is a common and ongoing struggle for leaders and co-workers to gain and keep the attention of their colleagues, especially as individuals are faced with information overload in this digital age. In addition, the COVID-19 pandemic surfaced issues with traditional in-person work and leaders are grappling with the increasing criticality of communicating effectively to adapt to the abrupt and accelerating changes necessary for post-pandemic survival. With the shift to remote, we also lost some highly effective, informal communication channels such as hallway conversations, break room banter, and the all-important drop-in, replaced by video meetings, text, chat, and many more emails.

Email volume and length have both increased remarkably for most workers since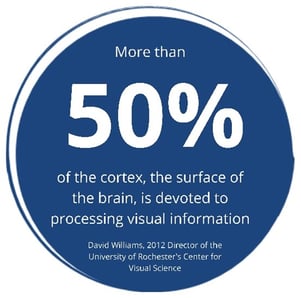 the start of the pandemic and so it is no surprise that viewers gloss over black and white words on a page. "More than 50% of the cortex, the surface of the brain, is devoted to processing visual information" according to David Williams, the University of Rochester's Center for Visual Science Director 2012, yet most business communication is text-based. While we no longer rely on our ability to process visuals to hunt and avoid being hunted, in the modern era we need to harness this innate ability to communicate information vital to business survival more efficiently and effectively.

But how does this translate to today's work environment?

Most people are absolutely overwhelmed with the amount of content they are consuming every day. A lot of this information is visual, often from scrolling through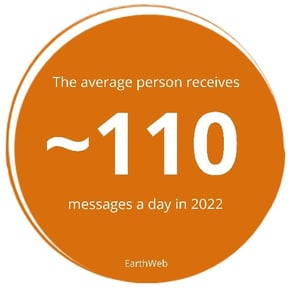 social media and news platforms. Not only are you competing with the allure of social media, but other forms of communication like personal and marketing emails, books, podcasts, and good old-fashioned in-person conversations. According to EarthWeb, the average person receives 100-120 messages a day in 2022. No wonder they are missing or failing to process your email about coming to next week's meeting with a status update.


We have personally seen many companies combat this lack of email-reading with more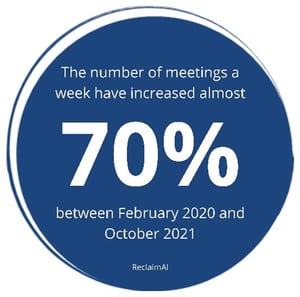 and longer meetings. According to ReclaimAI, the number of meetings a week has increased almost 70% between February 2020 and October 2021 – largely due to the shift to remote work and compensation for lack of in-person office collaboration. In addition, Stanford University has studied the very real effect of "Zoom Fatigue." With more meetings, less attention span, and less energy to keep up with those meetings, information is falling right through the cracks, creating even more stress about getting work done or driving the change necessary to remain competitive.

The use of visuals in your internal communications can combat these issues.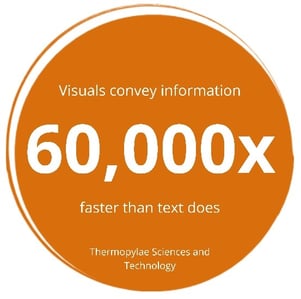 With too much incoming information, people become overwhelmed and burnt out, but we still need to communicate effectively to succeed in our businesses. Visuals convey information 60,000 times faster than text does, according to Thermopylae Sciences and Technology, with higher rates of retention and connection to critical messages. In short, there is a reason that advertisements are highly visual and easy to remember.
Infographics, clean PowerPoint slides, cohesive internal branding, pictures, videos, graphs, and process flows are all examples of how visuals can be used in internal communication.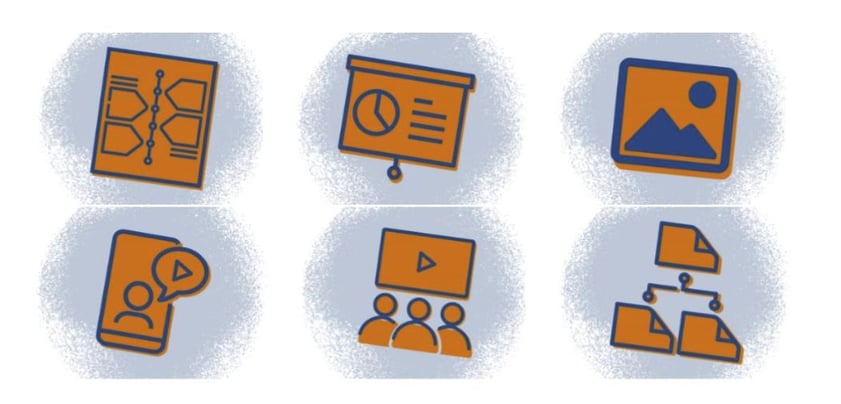 Not only can information be retained better, but decisions can be made quicker. Just like external marketing, when we want someone to decide and act between choices, we need to make sure they are not distracted by unnecessary information or off-brand visuals. The same concept works internally. We do not want to distract decision-makers with unnecessary words, long and difficult-to-digest messages, or sloppy-looking visuals.
Taking as much care in your internal communications and marketing as you do with your external marketing is a simple way to focus messaging on what matters most. For example, using a company-branded PowerPoint template for all your meeting slides, that consistently organizes information in a familiar way, applying brand guidelines to all internal communications, and limiting messages to as few words as possible, will all increase your impact.
These visual considerations will increase the efficiency of your communications, allowing better collaboration, decision-making, and overall success in business initiatives.
Internal branding also benefits your company culture.
Not only can you take this action to create better communication with your coworkers but encouraging all people in the organization to implement internal branding in their internal communications creates cohesion throughout the organization.


Employees will feel a part of the mission and vision of the company when they see and work with the brand elements every day. They will feel more inspired to produce great-quality work when they know what they are producing already looks like it is a part of the greater whole.
Employees will also feel more connected to other coworkers as they will have a shared visual language with which to communicate. It will enhance the effectiveness of their communications, and lead to greater problem-solving. Think about our personal obsession with emojis and how they have crept into our professional communications, from text to Slack, to Teams. Shared visuals create a connection to a shared purpose and understanding.

Top Tips for Implementing Internal Visual Communications: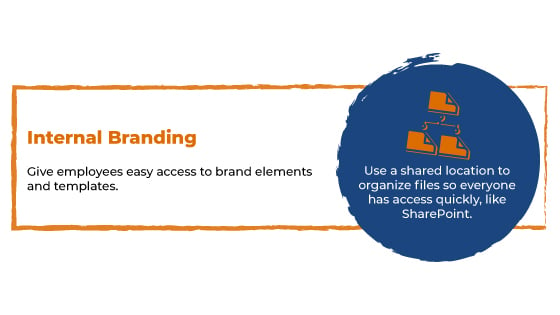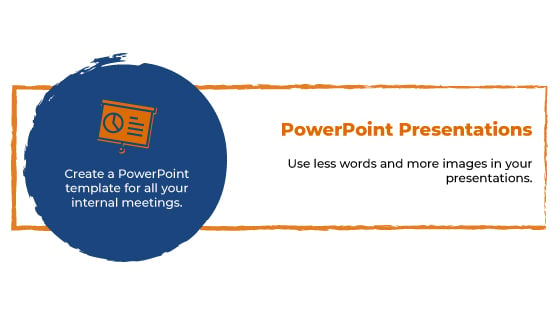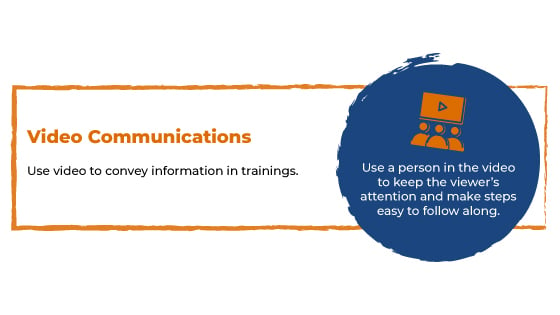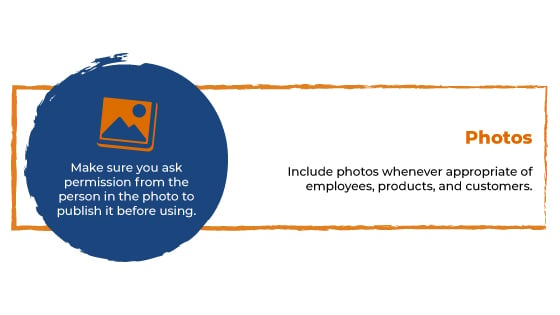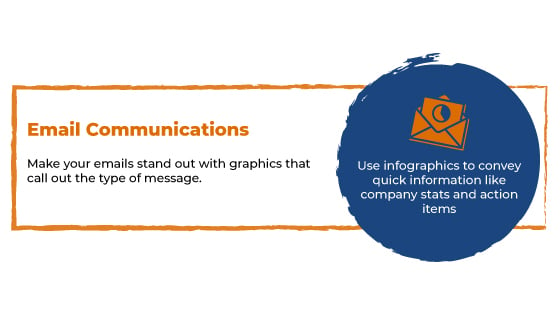 It is an ongoing struggle to cut through the noise your employees are facing every day and create more effective and efficient communication in your company. Although not surprising due to the way our brains work, it is frustrating when it seems like information is not reaching your coworkers. With these few tips, you can start successfully conveying information visually in your organization.

Start communicating more effectively today, subscribe to the Tangata Think Tank, and receive the entire series "Visual Communication in Business" providing you with an in-depth look at tools and tips on increasing your use of internal visual communications.