Visual Communications in Business: 5 Tips to Enhance Your Infographics

The amount of information we are consuming every day is overwhelming. With social media, emails, and meetings, your messages may not be cutting through the noise.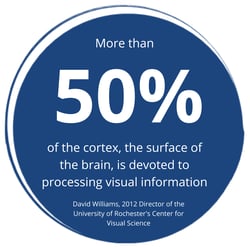 One way to communicate information more clearly and quickly is through visual aids. According to David Williams, the University of Rochester's Center for Visual Science Director 2012, "more than 50% of the cortex, the surface of the brain, is devoted to processing visual information". Therefore, shifting efforts toward visuals and away from the text will lead to more effective communication.
A great example of using this concept in practice is infographics. Infographics take a body of information and put it in a graphic context to make it easier to understand. They rely heavily on design concepts to communicate rather than the text alone.
When to Use Infographics
Commonly seen on social media platforms and as supplemental graphics for blog posts, infographics can also be used for internal communications whenever you have the information you need to convey in a simple way. Some examples include timelines, processes, comparisons, correlations, and general data visualization. Be careful that you are not trying to convey too much information in one graphic to maintain its effectiveness.
Timelines
| | |
| --- | --- |
| | Used to convey chronological information like company history, project milestones, or how demographics have changed over time. Keep your points to 7 or less to keep from overcomplicating the graphic. |
Processes
| | |
| --- | --- |
| Used to convey process information like the user experience of an app, training processes, and onboarding steps. Keep your points to 10 or less, with simple descriptions so the audience can absorb the high-level information without being overwhelmed. You can go into more detail on each step with supplemental materials like guides and videos. | |
Comparisons
| | |
| --- | --- |
| | They are used to compare two to three groups of information. Examples include comparing different pricing tiers of an app, illustrating the pros and cons of using a particular product, or comparing a consequence to that of a competitor. Keep to only two to three items of comparison and less than 7 points for each to ensure the graphic is easy to understand. |
Correlations
It is used to correlate different types of information. For example, the parts that make up a

whole product, how timing affects which process is initiated, or other demographics' views of a service offering. Make connections between information clear with only up to 7 points or branches.
Data Visualization
| | |
| --- | --- |
| | They are used to convey any simple data set visually. This category is the most common, with pie graphs, bar graphs, visual representations of percentages, etc. Often, one infographic can have a few groups of data visually represented to show a larger picture, such as a demographic overview for a product, potential for market expansion, or company stats. Make sure information is related so they work together to show a larger picture, and stick to only a few data points, so the graphic is easy to understand. |
Top Tips for Creating Infographics
Creating infographics can seem daunting. With so many visual aspects, it isn't easy to know where to start. The following tips will help you design a great infographic.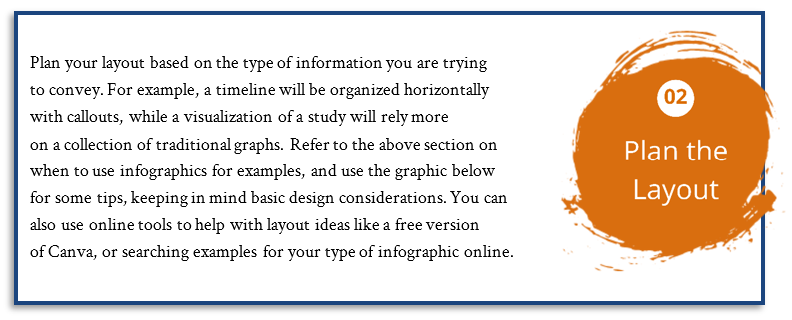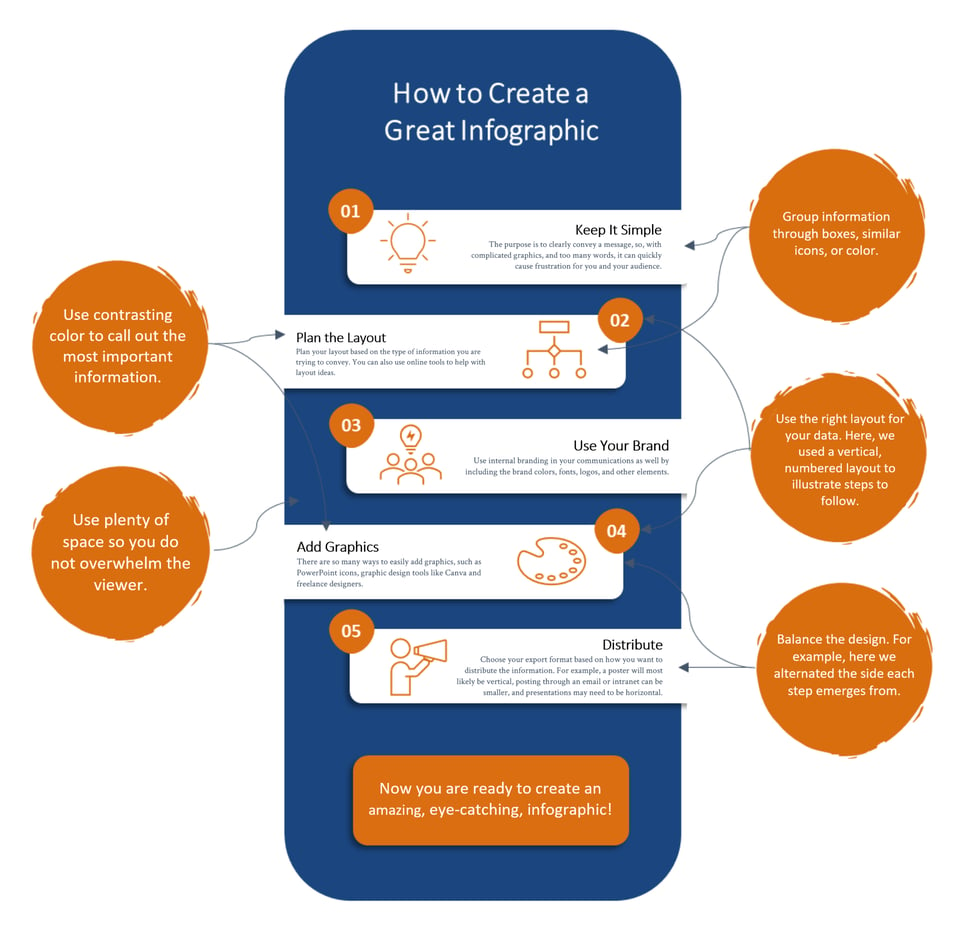 PowerPoint
Easily

add basic icons

and change the colors to match your company's brand.

Limited variety of icons and other design options.
Whiteboarding Tools
Whiteboarding apps like

Miro

allow you to play with designing your infographic and enable easy collaboration.

It can be limiting with its tools and clunky with exporting in the right format and size.
Graphic Design Tools
Free design tools like

Canva

can allow you to explore and design visual content, including infographics with easy-to-use templates.

It may limit you in terms of complete design control and adaptation to your brand.
Freelancers
Many options for great

freelancers

on freelancing platforms like Upwork and Fiverr.

It is not free and can vary in the quality of the work.
Design Professionals
Recurring high-quality products with companies like

Design Pickle

.

It can be expensive, especially if you do not use the services often enough.

Visually representing complex data to make sure your employees and coworkers understand the information quickly can be daunting. Still, with some consideration at each step, you will soon get a feel for your infographic templates and what works best for your company.
Start communicating more effectively today, subscribe to Tangata Think Tank, and receive the entire series "Visual Communication in Business," providing you with an in-depth look at tools and tips on increasing your use of internal visual communications.